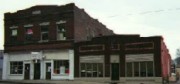 Law Offices of Frank Holloman

Legal Services

Call: 901.526.1088
Or Fax: 901.525.3238

Contact me by clicking here:
Or visit my office at
242 Poplar Avenue
Memphis, TN 38103
United States
LINKS


Frank Holloman
Attorney

I can help you with tax law and a variety of legal issues.
We have been handling IRS and tax problems since 1973
Created: 7/2/2002
Last updated: 6/24/03.
Serving tax and business clients for over 34 years.

This page has been visited by
clients.

Not certified as a specialist by the Tennessee Commission on Continuing Legal Education and Specialization